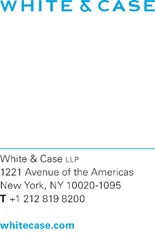 August 23, 2022
VIA EDGAR
United States Securities and Exchange Commission
Division of Corporation Finance
100 F Street, NE
Washington, D.C. 20549
Attn: Ameen Hamady and Kristi Marrone
| | |
| --- | --- |
| Re: Altitude | Acquisition Corp. |
Form 10-K for the year ended December 31, 2021
Filed March 29, 2022
File No. 001-39772
Dear Mr. Hamady and Ms. Marrone:
On behalf of our client, Altitude Acquisition Corp., a corporation organized under the laws of the State of Delaware (the "Company"), we respond to the comments of the staff of the Division of Corporation Finance of the Commission (the "Staff") with respect to the Form 10-K for the year ended December 31, 2021, filed with the Commission on March 29, 2022 (the "Form 10-K"), contained in the Staff's letter dated August 10, 2022 (the "Comment Letter").
The Company will file via EDGAR Amendment No. 1 to the Form 10-K, which reflects the Company's response to the comments received by the Staff and certain other updated information. For ease of reference, the comments contained in the Comment Letter are printed below and are followed by the Company's response.
Form 10-K for the year ended December 31, 2022
Item 15. Exhibits, Financial Statement Schedules, page 61
| | |
| --- | --- |
| 1. | Please amend your filing to revise Exhibits 31.1 and 31.2 to include the internal control over financial reporting language in the introductory portion of paragraph 4 and paragraph 4(b) of the Section 302 certification. |
Response: The Company has revised Exhibits 31.1 and 31.2 of the Form 10-K and refiled such exhibits with Amendment No.1 to the Form 10-K to address the Staff's comment.